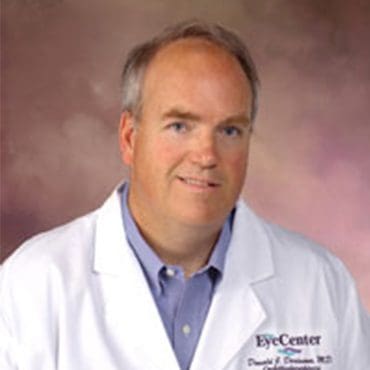 Donald J. Derivaux, M.D.
Board Certified Ophthalmologist
Specializing in cataract surgery and comprehensive ophthalmology
Board Certified Ophthalmologist Specializing in Cataract Surgery and Comprehensive Ophthalmology
Dr. Donald Derivaux is a native of Huntsville, Alabama. He attended the University of Alabama and graduated Magna Cum Laude. Dr. Derivaux went on to attend The University of Alabama at Birmingham's College of Medicine.
Dr. Derivaux completed his internship and residency in ophthalmology at the Ocshner Foundation in Louisiana. He is board certified by the American Academy of Ophthalmology as well as the Alabama Academy of Ophthalmology and the Madison County Medical Society.
Dr. Derivaux has been privately practicing general ophthalmology since 1992. In 1999, along with Doctor Hindman, he founded The Eye Center Surgeons and Associates, LLC.