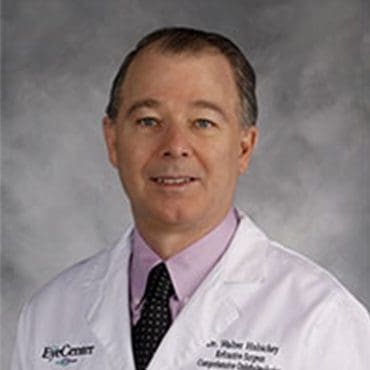 Walter J. Hubickey, D.O.
Board Certified Ophthalmologist
Specializing in refractive surgery and comprehensive ophthalmology
Dr. Walter J. Hubickey joins The Eye Center Surgeons and Associates in 2011 after 6 ½ years as Director of Refractive Surgery at Huntsville Center for Sight; where he performed thousands of successful Laser Vision Surgeries on people from all over the Tennessee Valley and surrounding states. Dr. Hubickey's refractive surgery experience and expertise is unique in that he had the privilege to pioneer refractive surgery in the United States Army- starting the first of its kind War-Fighter Refractive Eye Surgery Program at Ft. Bragg, N.C. in 2000.
As an Army Special Forces Green Beret, he fostered friendships and relationships that enabled his later interest in refractive surgery to grow into one of the largest and most successful combat readiness programs within The Department of Defense. Dr. Hubickey has been invited to speak on his specialty to include national ophthalmology meetings and societies. He has had two articles published in the prestigious Journal of Ophthalmology on Refractive Surgery.
Born in Philadelphia, Dr. Hubickey graduated as a pharmacist from Philadelphia College of Pharmacy and Science and continues his medical and surgical training at Philadelphia College of Osteopathic Medicine. He continued a comprehensive internship at Tripler Army Medical Center in Hawaii and under took his ophthalmology residency at Brooke Army Medical Center at Ft. Sam Houston Texas. He is certified by the American Board of Ophthalmology since 1994 and is a member of the American Academy of Ophthalmology, American Society of Cataract and Refractive Surgeons, AMA and Madison County Medical Society. He is on the medical staff at Huntsville Hospital, Crestwood Medical Center, Huntsville Surgery Center and Madison Surgery Center.